Kleresca® is a breakthrough BioPhotonic treatment that significantly and comfortably improves acne, with a demonstrated safety profile.
Skinplus Dermatology was the first clinic to offer this natural exciting new treatment in South Australia.
Treat acne without medications
Kleresca® uses a gel together with a multiwave LED light to stimulate your own tissue's repair mechanism and kill bcteria in the skin. It is a good option for pregnant patients as the gel is not absorbed into the body.
It is an option for moderate to severe acne. Nine out of 10 people saw an improvement to their skin*, whereas every third person achieved clear or almost clear skin. Ring or email to book an appt into our Acne clinic.
How is the treatment performed?
Unlike many treatment options, Kleresca only requires 1-2 treatments a week for 6 weeks.
A healthcare professional will cleanse your skin and apply the Kleresca® gel to your face. The gel is then photo-activated using a multi-wavelength LED lamp.
You may feel a warm sensation on your skin, and most people find the treatment pleasant and comfortable. After 9 minutes under the light, the gel is removed. Your complexion may experience temporary redness after the treatment.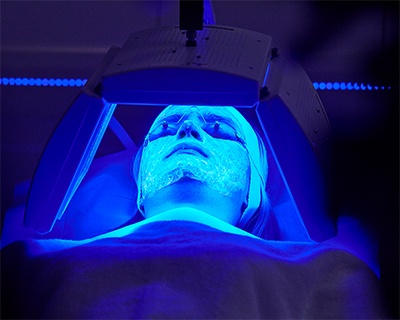 When can you expect to see results?
You should see noticeable improvements to your skin as the deeper layers respond and skin repairing occurs during the six-week treatment course. For at least six weeks after your treatment, expect to see additional improvements to your complexion. Results have been seen to have a long-lasting effect for over twelve months.

How to improve acne scarring?
Some patient have noticed after Kleresca therapy, their scars are flatter, pore size smaller and skin texture glows.
Want to know more? Ask us a question about this treatment or to make an appointment contact us