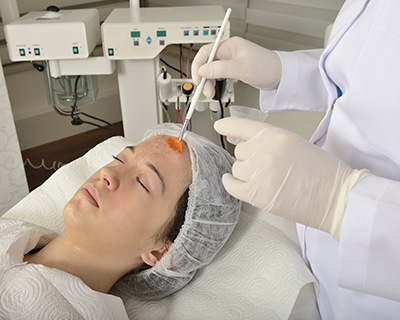 A chemical peel is a cosmetic procedure to exfoliate the weather-beaten and damaged external layer of skin revealing the underlying new, more firm and smooth skin. It is recommended for reducing fine lines and wrinkles, blemishes and age spots as well irregular pigmentation on face and neck.
Different types of chemical peels are available for use in different skin types. They vary in the degree of penetration and peeling. Stronger chemical peels penetrate very deep into skin and give better results but cause more discomfort and delays recovery time.
The type of peel to be used and the duration of treatment depend on improvement required and nature of skin. Our nurse will choose an appropriate chemical peel based on the skin type.
To achieve the best possible outcome and avoid untoward effects, please inform our nurse if you have any of these conditions:
Prone to cold sores
Keloid scars caused by previous cosmetic procedures
On medication for any illnesses
These factors are important and can affect the outcome of the peel treatment substantially. After any peel treatment you should protect your skin from sun exposure and avoid smoking as these factors affect the healing process.